Our Victorian houses are located on Bradmore Road, in a leafy and tranquil part of Oxford. All of our College-owned houses have gardens, where you can study, relax and find some peace and quiet.
As well as our wonderful onsite Hub Café, there are local shops, pubs and restaurants a five-minute walk away on North Parade. University Parks are only a short walk from Bradmore Road and Norham Road, whilst the bustle of the city centre is approximately a 20-minute walk away.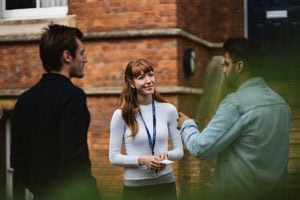 When you move into college accommodation you will be welcomed by a member of staff. All information and regulations pertaining to students living in Kellogg accommodation will be issued to new residents in a 'Welcome Pack', which will include our Domestic Arrangements booklet and is to be read carefully in conjunction with your Licence to Occupy
During the academic year 2022/23, each student room in college accommodation will be inspected each term by a member of our Domestic Bursary Team; you will be notified in advance. Cleaning of communal areas and student rooms is provided in college accommodation on a weekly basis. Accommodation is provided on a self-catering basis and every room has access to kitchen facilities. Alternatively, you may wish to dine in the Dining Hall or Hub Café.
Please note that no smoking, including vaping, is allowed in any College buildings or enclosed spaces on the main College site or in the College Gardens. There are designated smoking and vaping areas in the grounds of the student accommodation only, these must be used if you wish to smoke or vape.
Contacts
For issues relating to the fabric of the buildings such as walls, doors, lighting, windows, plumbing or heating in College-owned accommodation, these are the properties on the main College site, please contact the Head of Facilities via buildings@kellogg.ox.ac.uk.
For issues relating to furnishings of the building, pest infestation, cleaning, and your Licence to Occupy please contact the Accommodation Manager via accommodation@kellogg.ox.ac.uk
For issues relating to IT problems, including WiFi, please contact the IT Officer, via it-support@kellogg.ox.ac.uk or on +44 (0)1865 612303.
There are two Junior Deans who reside on site at Kellogg College who can assist with welfare related matters and out of hours lockouts or lost keys. The Junior Dean can be contacted via junior.dean@kellogg.ox.ac.uk or for immediate or out-of-hours assistance (Monday to Friday 19:15 – 08:30 and all-day Saturday and Sunday) please call +44 (0)7932 951 849.
If you are unable to reach the on-duty Junior Dean in an emergency, please call the Oxford University Security Services on +44 (0)1865 289999.
A House Officer is resident in each accommodation building owned by Kellogg College. They play a key role in the safety and act as a valuable conduit between residents and the College. If you wish to contact a House Officer you will find their contact details and further information on the noticeboard in each accommodation building on site at Kellogg College, or please contact the Accommodation Manager via accommodation@kellogg.ox.ac.uk
Please also refer to the important Health and Safety Information under Life At Kellogg.
Updated on: 05/07/2022