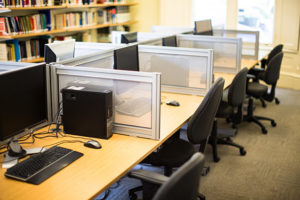 The Computer Room on the ground floor of the Library contains some desktop computers with Word for Windows, Excel, Access, and access to the Internet. It also has the printing and copying facilities. Use of the computers is free to College members, and there are some desk spaces for the use of personal laptops, etc. The IT Officer will make every effort to ensure that all students are made aware of any network problems. If you are travelling a long distance at the weekend to use College study facilities, please check your College email account for any IT updates.
Printing and Copying
The College has a Canon multi-function device (MFD) in the Computer Room which handles all printing, copying and scanning requirements.
Kellogg allows students 300 sheets of photocopying or printing paper per year, free of charge. Usage above 300 sheets may be charged at the rate of 5p per black and white page and 10p per colour page.
Items for printing can be sent from the computers in the Computer Room, or remotely from other devices. To send a file to print it needs to be attached to an email and sent from a Nexus365 account to the dedicated mailbox mobileprint@kellogg.ox.ac.uk. Valid formats for the attached files are Word, Excel and PDF.
Please remember that a print job stays in the printer queue for a maximum of 72 hours. For full instructions on how to use the machine, or should you have any problems, please contact it-support@kellogg.ox.ac.uk  or 01865 612023. If additional printer paper is required, please ask at Reception.
Updated on: 18/07/2023