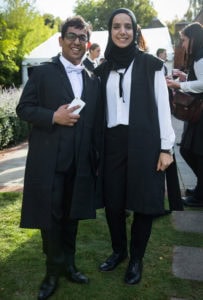 Academic dress is still regularly worn at Oxford. You will be required to wear academic dress on a number of occasions during your time as a student.
Full academic dress consists of subfusc worn with a cap and a gown. It is worn on the most formal occasions.
Subfusc is a smart, dark outfit worn under gowns on the most formal academic occasions. It consists of the following:
• A plain white shirt or blouse with collar and sleeves
• AND a white bow tie OR black ribbon OR black bow tie OR black full-length tie
• AND a dark suit worn with black socks OR a dark skirt worn with black tights OR a pair of dark trousers worn with black socks or black tights
• AND black shoes
Serving members of HM (UK) Forces may substitute an appropriate uniform (typically No. 1 or No. 2 dress) for subfusc, while ministers of religion may substitute appropriate clerical dress. Students are expected to provide their own subfusc on all occasions when it is to be worn.
With subfusc, students wear a gown and cap. The custom and practice of this College, when academic dress is required, is that all student members of College will wear:
• A knee-length, plain black gown with long black streamers from the shoulders and a plain collar; this is known as the Advanced Student Gown.
• AND a plain black mortarboard with tassel OR a plain black, soft cap. A plain black headdress such as a turban or headscarf may be substituted for religious reasons. A uniform cap is worn by members of HM (UK) Forces choosing to wear uniform in place of subfusc.
Students are not permitted to wear the mortarboard indoors, but they are required to carry it as part of subfusc unless they opt for the soft cap, which is usually worn at all times.
The principal times when you will be required to wear full academic dress will be matriculation, examinations and graduation. On less formal occasions, you will not be required to wear full academic dress: instead, the gown can be worn over clothes appropriate for the occasion. For example, at a Guest Night Dinner at Kellogg, students would wear the Advanced Student Gown over a suit or dress or equivalent outfit of their choosing. It is usual for the dress code to be indicated in event details on the College website or in other literature. For events outside Kellogg, different practices may apply and you are advised to consult your host for guidance.
Common subfusc errors to avoid
These include: wearing fabrics that are too light in colour or include a coloured pattern; blouses without a collar; shirts or blouses that are not plain white; light or coloured tights or socks; or shoes that are not black. If you are incorrectly dressed you may be prohibited from taking part in important and enjoyable formal occasions, so please do follow the guidance above in order to avoid disappointment!
Purchase of Academic Dress
We recommend that you buy academic dress particularly if you are a full-time student because you are likely to wear it several times. The usual cost for cap, gown, and tie/
ribbon tie is approximately £45.
The principal outfitters in Oxford are:
• Shepherd & Woodward www.shepherdandwoodward.co.uk
• Ede & Ravenscroft www.edeandravenscroft.com
• Walters of Oxford www.walters-oxford.co.uk
New items can be purchased from these or other outfitters. You may find second-hand gowns and accessories on sale in charity shops in the city. We recommend that you
purchase your academic dress from one of the specialist academic dress providers in Oxford and avoid online retailers whose products do not always meet requirements.
Academic Dress Hire
Academic dress (either full or part) is worn on many occasions at Kellogg and elsewhere in the University. This includes Ceremonies, examinations, and dinners. If you expect to attend such events frequently, it is recommended that you purchase an Advanced Student Gown (approx. £40).
The College maintains a small supply of gowns, caps, and ties that may be hired or borrowed by prior arrangement, please email academic.office@kellogg.ox.ac.uk Priority will be given to part-time and PGCE students or to those who need items for examinations. If you wish to borrow a gown for a Guest Night Dinner, please email enquiries@kellogg.ox.ac.uk
Updated on: 11/07/2023